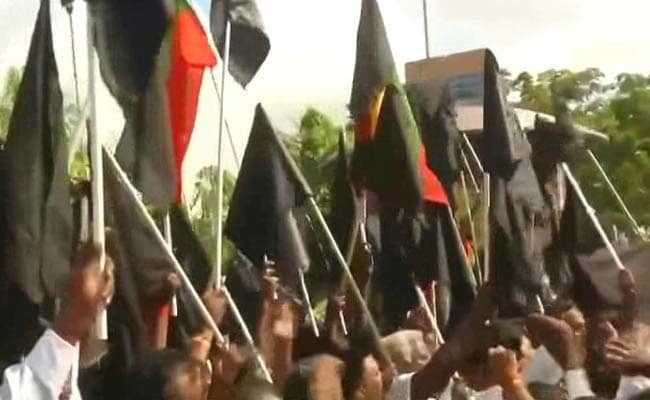 It was a roadshow of a different kind that awaited Prime Minister Narendra Modi in Chennai this morning. As the police tightened security in and around the Chennai airport, a solid mass of protesters, armed with black flags and black balloons, lined Anna Salai - the approach road. The show of protest forced the Prime Minister to stay off roads, and depend on a chopper instead to go about his engagements. Later, the police detained nearly 200 protesters.
The Prime Minister is in Chennai to inaugurate DefExpo, the prestigious exhibition that seeks to project India as one of the major defence manufacturing hubs. But to get to Thiruvidanthai on the outskirts of Chennai, he took a chopper straight from the airport. The aircraft is on stand-by to take him to the IIT Madras campus, where he is expected to attend a programme at the adjoining Adyar Cancer Institute later in the day.
The opposition DMK and fringe groups had hit the streets since morning, expressing anger against what they call the Centre's failure to form a Cauvery Water Management Board. A number of film personalities and politicians led the protests. DMK leader MK Stalin, who was leading the party cadres, tweeted the photographs.The protest, though, was largely symbolic, since the Prime Minister's travel plans were changed on the eve of his visit in view of the situation. All road routes were cut out and a wall between the IIT Madras and the Adyar cancer institute was razed to enable the PM to travel through the walled and gated campus premises. MDMK chief Vaiko called PM Modi a "coward" for taking a chopper instead of staying on the road.
Protests over the Cauvery water management board has already derailed six IPL cricket matches that were to be played in Chennai. After mammoth protests on Tuesday ahead of a game, all the home matches of Chennai Super Kings were shifted to Pune. Announcing the decision late last evening, IPL Chairman Rajv Shukla said the police have expressed inability "to provide security in the prevailing situation".
Public anger over Cauvery waters had peaked since March 29, as the Centre failed to draw up a neutral body to oversee the sharing of Cauvery waters between Tamil Nadu and Karnataka as directed by the Supreme Court.
In February, the Court had laid down a water sharing formula and gave a deadline to the Centre to form the body that would be in charge of implementing the process.
As the deadline expired, the Centre went to the top court, asking for clarifications on the structure of the body. Cutting across party lines, political leaders in Tamil Nadu have accused the BJP of trying to score political points in Karnataka, where assembly elections will be held in May.